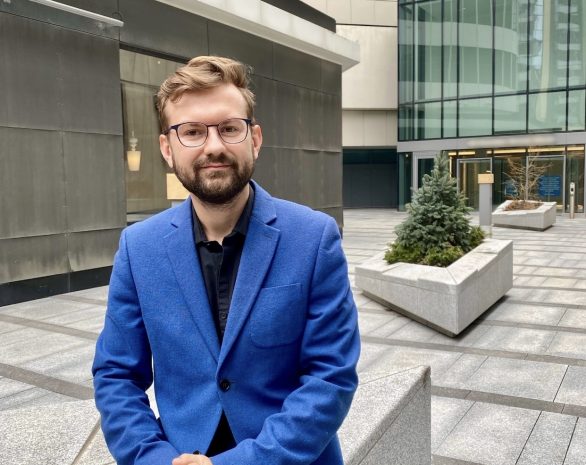 2016-2017
Horatiu Druma-Strugariu understands how artificial intelligence is changing our world and the practice of law. As the head of Canadian content at Alexsei, he knows firsthand how AI technologies are producing an insatiable appetite for computation.
About Horatiu Druma-Strugariu
Head of Canadian Content, Alexsei, Toronto, ON, Canada
The issues Horatiu faces in his role are among the most important of our time – challenges of innovation, technology, justice, regulation and competition. Horatiu's exuberant curiosity in human connection and creativity motivates him to reinvent the way things are done in the legal realm. Born in Romania, Horatiu remembers being raised in a politically charged era and in a household where politics were front and center of daily conversations. His early exposure to the state of government, social unrest and the vitriol built awareness about who is included and who is not. "My family didn't get along with the regime.

My dad is an engineer and my mom is a dentist. My mom originally wanted to be a lawyer but she needed to be approved by the regime to go to law school. Due to my grandfather's history - he was a dissident - my mom was told she couldn't because she had 'unhealthy origins'," says Horatiu. Horatiu's life, extraordinary intellect and inclusive approach to law exemplify what we can achieve if we believe in our own strength and if we channel our inner compassion, creativity and focused enthusiasm. "The LPP lit a fire in me about finding solutions, especially technological ones to ensure people have access to justice and legal help regardless of their financial status," he says.
Law Degree
University of Cambridge, Magdalene College
Favourite Book Of All Time
The Pastures of Heaven by John Steinbeck
Why law? What inspired your legal aspirations?
As a kid, I loved Matlock. Few things were more exciting to me than getting to sit in front of the TV to watch Andrew Griffiths don his light gray suit and unmask murderers in court. I wanted that to

be me. Growing up, I kept watching legal shows and that hardened my interest over time. I'm fascinated by people and law is how we organize ourselves, so I was naturally drawn to it. My family probably had some influence too because I loved to talk (and sometimes argue) so they were always supportive of a legal career.
What kind of law do you practice?
Every kind. My role at Alexsei has me dealing with and seeing every possible kind of law, ranging from dog bite litigation, to blockchain regulatory frameworks, to international criminal law. My main

focus, however, is around commercial litigation, bankruptcy & insolvency, and insurance law.
What legal case(s) had a strong impact on you and why?
Confetti Records v. Warner Music. It's this strange IP moral rights case from the UK where rap is declared a foreign language for the purposes of the court, requiring the testimony of an expert. It

is a little outmoded, but it was a meaningful case to me because not only did it deal with a particular piece of music I was very familiar with, but also it dealt with moral rights which are a curious set of rights. And, it was fun and showed that law isn't always drab and boring. I tell everyone I meet about it. What other case has a judge describing how they went on "the Urban Dictionary"?
Describe a defining moment in your legal career?
After the LPP I attended a workshop for LPP Alumni where I met someone who is now a good friend and who I co-founded a startup with. Although that venture ended up being put on hold, that experience a

nd meeting is what led me to where I am now. We spent a lot of time talking to lawyers, judges and other members of the profession to understand what we should be making. It was from discussing our startup and ideas with every lawyer I could get my hands on that I eventually met my current CEO and got hired at Alexsei. That workshop changed everything.
Tell me about a memorable case you've worked on recently?
Because our work at Alexsei often happens quite early on in the litigation process, we often don't see the results of it in court decisions until 6 months to 2 years out. Very recently, we were all su

per excited to see headlines across Canada and the globe commenting on a case which we had done some research for. I've also worked on a number of cryptocurrency related issues recently which has been interesting, both because of how it's situated - in a regulatory sense - and also because of how cryptocurrency is a new thing that law hasn't properly caught up with in many ways even still.
Where did you complete your LPP work placement?
Carroll Heyd Chown LLP, a firm consisting of 11 lawyers based in Barrie, Ontario. I worked on a broad array of civil and commercial litigation files ranging from personal injury matters, to employment

disputes, to shareholder disputes and construction files. I got to go all around Ontario, from Lindsay, to Sudbury litigating files and helping people.
Describe a particularly memorable or significant experience during your time at the LPP:
I absolutely loved learning design thinking and the basis of how to go about entrepreneurship. The A2J innovation challenge was my introduction to the world of legaltech, and it's the career path I

have pursued ever since. The discussions about legaltech ignited a fire in me to go out and solve issues and be in the startup space. I found my calling in legaltech. There were a lot of incredible moments, so much so I even got lost in cross-examining an actor-witness and was told I should consider a career in litigation. Still, had it not been for the innovation and entrepreneurship angles of the LPP, my life would be a lot different now.
Your experience at a personal injury conference inspired to start a venture – please share more details
At a 'Tricks of the Trade' conference, we heard judges (pre-pandemic) talking about how, in principle, they wouldn't mind video conferencing, but then lambasting all of the various pitfalls the then current technology had.
To me, it seemed that all the problems they mentioned had obvious solutions that just needed to be brought together in one holistic package aimed squarely at litigation and court usage. So we got to work figuring out what such a system ought to include, and what we would need to be able to build it.
We were extra-excited about the idea because we also wanted to do it in a way that would have brought real access to justice to a lot of people. We wanted to set it up in a manner that could allow a portable system to be mailed to people in far-flung corners of Canada so that they could participate in courtroom proceedings if necessary, without incurring the expense and hassle of traveling hundreds of kilometers and paying for hotels. It would also have meant less physical space needed for courtrooms/courthouses, and a general lowering of costs. We've seen some of it happen anyway due to the pandemic; now you no longer have expert witnesses regularly sitting around in hallways at $500+/h waiting to be called in. But there's still a long way to go.
We wanted to give the judge the ability to record a hearing on video so they could go back over it again later if they want to rather than being relegated to transcripts, notes, and audio recordings. Our view was that this could have a major impact in how well cases are handled. As well, we wanted to do it in such a way where the purchasers of the systems would primarily be courts and lawyers because we envisioned law firms creating special spaces in which to use this sort of system so as to save their clients a lot of half-rate travel time.
This would more or less have created a sort of system of distributed micro-courthouses. This was, in our minds, a fairly important aspect, because one thing judges complained about at Tricks of the Trade, and one thing we've seen being an issue with transition to Zoom is the issue of solemnity. Going to a courthouse feels solemn. The buildings are imposing, as is the atmosphere. That same solemnity doesn't exist in one's living room. But it could be made to exist in a dedicated space in a law firm.
We made some key mistakes, and there was less appetite for video conferencing pre-pandemic so the venture petered out, but that was what we were hoping to accomplish at the time and how it came to be. As mentioned, it's also how I got into legaltech.
Describe some of the more particularly helpful tools or skills you acquired during the LPP
I learned how to docket, how to open a file (including what it means to do a good intake interview), and how to put together a motion. As well, the negotiation training has come in handy at countless

points in time during my life since the LPP in non-legal contexts (it's helped me get a number of great deals, like on my last car), and the litigation training helped me be an effective advocate who got good results. Thanks to these skills, I was able to provide value from day 1 in my work placement.
Anything else you'd like to share about the LPP and your experience?
I love the LPP. It is such a great program. I had my doubts initially, and to be honest I originally signed up only because it wasn't clear if it would remain available and articling positions were

less than forthcoming. But from day one when Chris Bentley told us 'you get out what you put in,' I decided to give it my all, and I'm so thankful I did. I definitely wouldn't be where I am now doing what I am now without the LPP. I met a lot of great people there too, some of whom I have stayed in touch with. I definitely got out what I put in, and if I had the chance to do it all again knowing what I know now, I wouldn't have even considered traditional articling over the LPP.